While communal politics has not gone beyond Shaheen Bagh shenanigans, untruth based hate rhetoric in the name of anti-CAA agitations; while the world and our nation were rightly agitated about the deadly Wuhan virus, cleverly labeled Corona by clever pro-China lobbies; RSS was looking beyond today after due caution to swayamsevaks to work for containment of Chinese Wuhan virus. Akhil Bharatiya Pratinidhi Sabha that has never been canceled since 1951-52 except during Emergency during 1975-77, had to be canceled. But, the work hasn't stopped.
The roadmap rolled out by the RSS general secretary Bhaiyyaji Joshi based on a survey RSS conducted over the last few months shows that RSS has decided to move onto the next stage of organizational evolution. The earlier watershed moments for RSS were fights for democracy during Emergency that ended political apartheid against Hindutva forces for the first time; Ekaatmataa Yatra in 1983 involving millions of people to halt the conversion onslaught of Abrahamic religions, Founder Dr. Hedgewar Birth Centenary that made sewa as an important component of RSS work, and Ram Mandir movement that changed the face of RSS from an organization to a movement. There have been other important developments too, but I would consider these as major evolutionary steps, or as veteran RSS prachaarak, Dattopant Thengdi said, "Gradual Unfoldment". Every organization inspired by RSS was an act of unfoldment – from Akhil Bharatiya Vidyarthi Parishad to Vanvasi Kalyan Ashram, from Bharatiya Mazdoor Sangh to Vishwa Hindu Parishad to Ekal Vidyalay – every small and big addition to its social outreach intensively and extensively was unfoldment of an idea that germinated in 1925 in the mind of Dr. Keshav Baliram Hedgewar.
Monday's press meet saw an entirely new approach to its mission of social change. It is no more gradual development of ideas that is the RSS style, but an attempt to force the velocity of change. It may be recalled that RSS inspired women volunteers along with women organizations like Rashtra Sevika Samiti and Stree Shakti did a massive survey of nearly 43000 women from across geography and social strata across India. The report was presented to the people by RSS chief Dr. Mohan Bhagwat and was presented to the government too. Dr. Bhagwat declared that RSS with its allied organizations would work out new projects for social upliftment and solutions to women's issues based on this survey. He hoped that the government too would be able to craft its plans based on this ground report. This was a first. Decisions not based on anecdotal experiences and exchange of ideas, but solid data generated on the ground.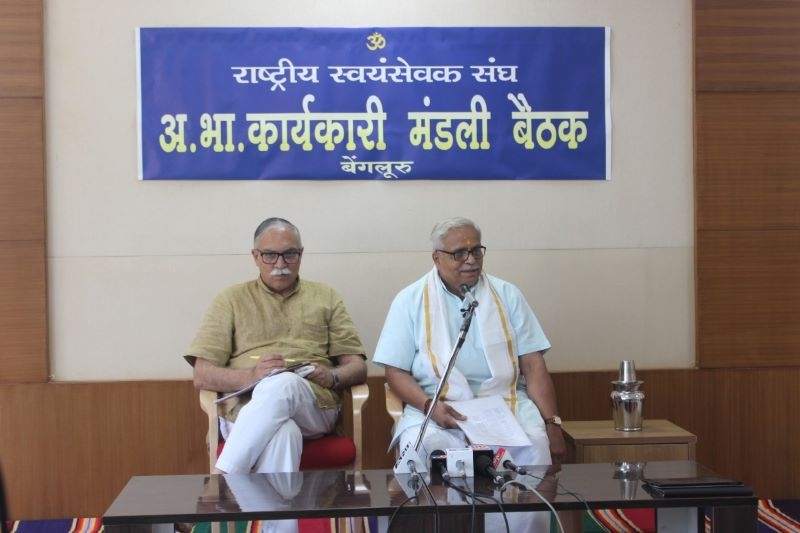 Now, comes the information from the General Secretary (Sarkaryavaah) that RSS has done an internal survey of its young and middle-aged swayamsevaks on a massive scale across Bharat. The number of swayamsevaks who responded to the survey is around 15 lakh or 1.5 million. Idea was to find out ways and means of using this power of the people for social reforms. The information given by the volunteers is their age, education, profession and their area of interest. Based on the inputs received from the survey about the interest of a swayamsevak in a particular work, he will be asked to work in his area of interest. These volunteers for social change will be divided into two age groups of 18 to 25 and 26 to 35. More seniors will also join in. The subjects shortlisted are rural development under five heads – education, health, farming, social harmony, and self-reliance. One thousand villages have been identified as proposed model villages. Of these, work has already begun in 300 villages.
Other areas of concern are the environment that includes water conservation and its availability, discarding the use of plastic and conserve the environment. These are the areas where 1.5 million youth will be trained to work in.
Bhaiyyaji Joshi talked about a nurturing family system that is the key component of India's heritage, the strength behind its cohesion and the secret of its survival as a civilization. He remarked that this family system is not a constituted body but a natural entity. Major sanskaras (value systems) are inherited through the family and it has a big role to play in nurturing a healthy society. We must strengthen this institution of the family. There will be special training for young families about nurturing Hindu values at home for themselves and children. It is called 'Kutumb Prabodhan' (Educating about family). Another significant observation made was that RSS is not talking of joint family as that is not possible in the present changed urban scenario. But, he said, we can still stay together, meet together and celebrate together. He disclosed that one hundred thousand youth will be trained for social reforms. It should be noted that none of the goals of social reforms and development are religion-specific. It is up to members of our society to take advantage of these and join in to create bigger momentum.
It is no news that RSS presence is growing in a sustained manner. Last year saw the addition of 3000 new shakhas. The number of daily shakhas has risen to 63000 and weekly and monthly get together has risen to 28000. The Sangh work covers nearly 70000 hamlets/villages or urban centers. 15000 volunteers have taken RSS training of 3 to 4 weeks to work better. Apart from this, on an average 100,000 swayamsevaks go for one-week initial entry-level training workshops. Significantly, Bhaiyyaji Joshi also clarified that it is not just formal training, but training can be informal and outside the RSS workshops. I am aware that it is happening already in small ways. RSS has reached this stage over 95 years of sustained work in the field that is basically done at the individual level – person to person.
It is this capital earned with 95 years of work that RSS wishes to invest in a rapid change in social behavior, nurturing family system, environment, developing villages in a holistic manner, conserving and providing water to more families, providing basic and better education, basic health facilities and help people achieve self-reliance to lead a dignified life.
I see in these pronouncements a change in the ways RSS has been handling issues faced by society. There is a sense of urgency now, there is the readiness to utilize the humongous organized power of the people that it has, to help our society take a quantum jump in growth in different dimensions of national life. So far, RSS has been low key in its role in the social change and has kept the focus on basic organizational work, that is, shakhas though all the dimensions indicated in the report are already being addressed. It seems that experience is the basis of this ambitious plan. Over the years, RSS has achieved most of the targets and objectives it has set for self and swayamsevaks who constitute RSS. There are good chances that it will achieve the objectives it has set out to achieve in this ABPS of 2020. RSS is but an organization of individuals who wish to do good work for society and see Bharat as a prosperous proud nation. Now, Sangh is ready to utilize this base to take a quantum leap forward. If it succeeds with the determination of its swayamsevaks and well-wishers, it will bring about unprecedented positive change in our society.
Source: NEWS BHARATI
మరిన్ని వార్తలు, విశేషాల కోసం Samachara Bharati యాప్ ను క్లిక్ చెయ్యండి.